FINGER JOINT PANEL

This panel consists of wooden slats, joined by indented joints (finger joint) and glued to the board edges providing a great dimension of solid wood.

The Finger Joint System is a wooden assembly that makes the most of it and get in return a very stable and highly resistant board.

SLATTED BOARD

This panel consists of wooden slats, edge glued, obtaining a large size panel solid wood.

Both panels are mainly used in the manufacture of furniture, doors, kitchens, floors and a wide range of moldings.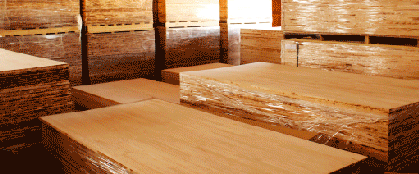 CHARACTERISTICS

- 100% Wood.
- 25mm width strips and more.
- Two sides sanded and calibrated.
- Excellent stability.
- Resistant.
- Ready to use.
- Easy to work.
- Improved performance.
- Time saving.
- Cost controlled.
- Moisture content guaranteed.
- Space saving storage.

QUALITY
A= Maximum 3 knots, typical wood hues (separating light, medium and dark tones).

B= mínimal defects (knots of dark tone, pitch black color, up to 5% or calibration sanding defects, more than three in the face).

C= Accept knots dead, bone, tar, black color, coloring, grinding and sizing defects, surface cracks, joints excellent quality.